Term 5, is a unique term. After the first five weeks, there are no more SGU written exams, and the majority of your grades come from BSCE and CBSE, which are both standardized NBME tests. This is also the only term, where SGU takes its students to the hospitals for "clinicals." Term 5 students go to the Grenadian hospital or a clinic on the island 10 times, 8 of which are required to pass term 5. Up until this point, our clinical experience came from practicing on standardized patients, and SIM-labs.
SGU prepares its students for clinicals through small groups, which are split into pathology/microbiology and clinical small groups, and OSCEs. During our clinical small groups, we would learn how to take a history, how to do examinations of various body systems, and receive feedback from our standardized patient who would come to lab with predetermined symptoms and history. This experience was very helpful for the hospital visitations, where we were expected to take histories, vitals, and do exams of our patients on our own.
A few days before hospital visitations (usually on Fridays), SGU would post the assignments for each small group and the location/speciality they were assigned to that week. Small groups each had about 8 group members, and each group had a group leader. The group leader would take attendance at the hospital or clinic, hold on to the bus passes, and give the reviews to the physician they were going to be with that day.
Our first assignment was Anesthesiology at the Grenadian Hospital. In preparing for each hospital visit, you can study the system you are going to be attending. For example, anesthesiology, you would want to brush up on your respiratory system and look at anesthetics, as well as, techniques (intubations and airways). I did not take any pictures, because I did not carry my phone with me. The buses left around 8:30 in the morning to take us to the hospital, which has an excellent view overlooking the harbor and Grand Anse Beach. Below are some pictures from google.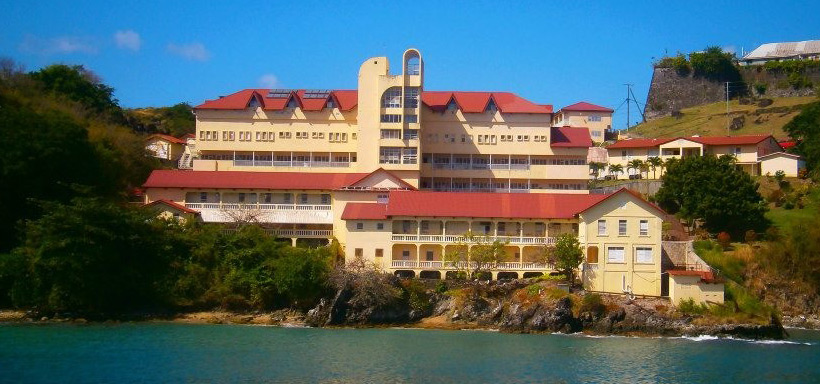 The great majority of the hospital does not have air conditioner. I believe floors with surgery and ICU have air conditioner. Did I mention we were required to wear business casual with our long white coats in the Caribbean hospital with no A/C? It was hot. Their ICU had about three beds, no separate rooms and all the beds were separated by curtains with cardiac monitors. Unfortunately, we didn't have any patients in the ICU, but we were happy no one needed intensive care, too! However, there was a surgical patient there that day, that we ended up getting a history on. We get so used to going through the motions taking history.. "what brings you in today?" "What is your diet like?" "Tell me more about your Diabetes.." I think it's easy to forget that we were no longer dealing with a "standardized" patient to pass a test. We were dealing with a real human, in the hospital for a real reason. Because so much of our success in medical school is based on tests, I think it's easy to get caught up in all of it, but at the end of the day, we practice on real humans, and we cannot lose sight of that. How many times have we been told how important the doctor patient relationship is, but at this point, we have never once built a relationship with a patient, as a physician or soon to be.
Each hospital visit was eye opening for me. Not just because it was like "Oh shit, this is real," but also, because the level of care in Grenada and US, does not compare. Even though I knew it was a developing country, I don't think I was prepared for the lack of resources among the facilities. When I attended tutoring sessions from a physician on the island, he told me that someone once died on the island, because the island only has 2 ventilators, and if someone is on a vent, and you need one, then your best bet is to be flown out of the country, and should you need help quicker than that, you are S-O-L. What is even more sad, is that the patient could have probably survived, had they gotten the respiratory assistance they needed, temporarily. For comparison, the floor where I worked in Tulsa, OK alone had >16 ventilators, that is not the count of the total hospital, but the count for one floor.
There is a lot of negativity on social media about America. My question to said complainers is, "have you lived anywhere besides America?" Every time I came home from Grenada, I remember feeling so happy to have a working toilet, feeling like the water was clean, carpet on my feet, and abundant and accessible groceries, etc. How can we even pretend to think America is a shitty place to live, when some people from other countries, literally have no access to health care, or what access to health care they do have, is very limited.
We also went to the cardiac clinic, which is ran by VOLUNTEER physicians, and the limited resources they have are donated by SGU and outdated. Cardiac disease is very prevalent on the island, and being able to be seen by physicians and being regularly monitored for comorbidities is important. The clinic has the patients pay what they can, which is nice and helpful for ensuring physician follow ups. If you know of anyone or any supplies that can be donated, it's a great way to give back.
The surgery wards are split into male and females. Inside, you will see many beds separated by curtains. Again, no separate rooms. I don't remember seeing a separate room in all of the hospital. Patients in America are generally unhappy, when they have to spend their sick hospital time with another patient in a non-private room, and I don't blame them. Who really wants to vomit with another stranger in the room, and who really wants to watch and hear and smell someone else's vomit. All I am trying to say, is that America is a wonderful place to live, with an abundance of resources.
When we went to the hospital, we were told to bring hand sanitizer. Walking around the hospital, I don't remember one hand sanitizer station actually having hand sanitizer in it. On the surgical wards, and the labor and delivery rooms, I do remember soap and water being available. This blew my mind. For comparison, the CVICU that I worked at in Tulsa, had a hand sanitizer dispenser outside of every single room. We were also required to knock and sanitize (or wash our hands) before entering every single patient room.
The labor and delivery rooms were literally one small room with two beds in it. Could you imagine giving birth to a child with a family on the other side of the curtain screaming out in pain themselves. Talk about a "birthing suite."
We got to see a newborn at one point, and that was a neat experience getting to do the exam and check the baby's reflexes. We also got to go to the pediatrics ward. It's a good sized room with crib after crib after crib all in the same room. I remember walking in amazed at how many children and cribs were able to fit into one room. There isn't anything wrong with this, however, it's not idea for infants that may be contagious. The physician we shadowed on the peds wing asked us about the premie weight cut off, complications, etc. She also told us that she uses genetic family trees regularly, so we tried to impress her by drawing out our patient's family tree lol.
Interviewing the patients, examining the patients, and so on was all very helpful in preparing us for clinicals (or at least I think so, because we have not started them yet). Most of this stuff, has to be learned by doing. We can be taught and taught on how to give a history, but you can't really deliver 'til you do it, and then you have to add in the humanity (which we should all have naturally), but again you are in a new role and one may feel a lot of pressure.
Overall, I am grateful for the clinical experience and for the opportunity to experience life in another country. I do not think I would be as appreciable towards America, had it not been for living in Grenada for two years. I am not knocking Grenada in anyway. My views are not reflective of SGU.